CAMPER & NICHOLSONS YACHTING LTD (South Coast UK)
refurbishment of one of the most prestigious yacht building facilities in the world.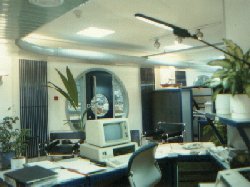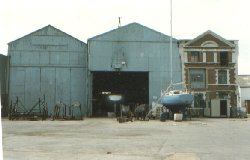 The Landward end of one of the sheds after recladding, insulation, new windows, new signs.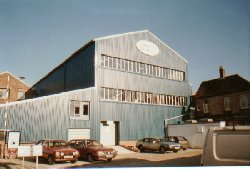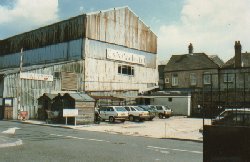 and this is how it looked before.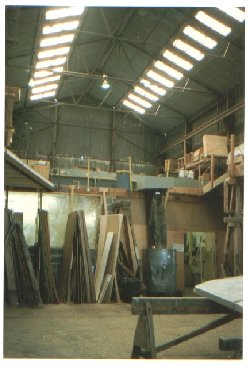 Our brief over two years included strengthening old steel columns corroded over the decades, new cranes, sprinklers, workshops and offices, lighting, power supplies, heating, mezzanine floors, communication systems, external lndscaping and boundary walls, and car parking and a new concrete apron to support the 200 tonne travel lift.
In anticipation of a newer and much larger boat shed, piled foundations have been provided. The plan is to construct the new shed over two of the existing ones, and instal new cranes. Once watertight and virtually complete the cranes will dismantle the sheds underneath.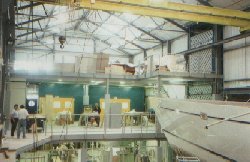 Inside with new goods hoist on the right, and the new mezzanine floors at the rear. Note no ventilation through rusty corregated iron!
Part of the workshop was converted into a hi-tec office, with new simple exosed ventilation system and new windows providing views over Portsmouth Harbour.
Two of the sheds in the condition before we started. The Brick Building to the right was not altered during the work. This boat yard was where the famous J Class Yachts "Endeavour" and "Velsheda" were built. Both are now refurbished and sailing again.
this is how this shed looked inside before the work.