We were asked to create a large space at the rear of a fine Victorian House to include a new kitchen and dining area. From this space we formed a study / piano room, leading to the main lounge at the front of the house. An old door opening was infilled with glass blocks to provide light to the Piano Room.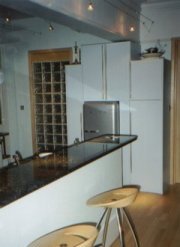 HAZLEWELL AVENUE (South London)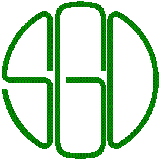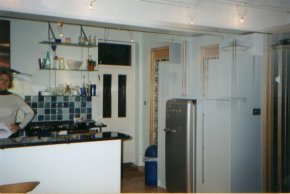 The original back door and part of the dividing "breakfast bar" shelving and fridge and wire lighting.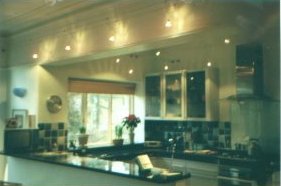 The main beam supporting the walls above and opening up the back of the house. Granite worktops.
(rather poor image will be replaced soon)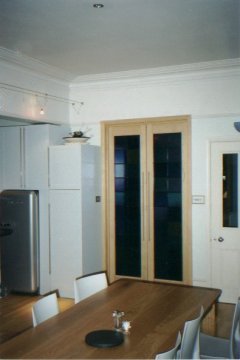 From the dining area new doors into the piano room with blue stained glass (backed up with safety glass for safety)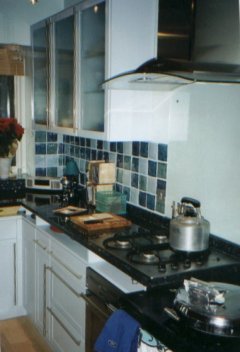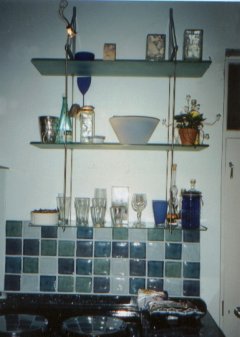 Hand made multi blue coloured tiles, stainless steel oven hood, black granite worktops.
Note the extra space we added under the worktop for storage of those awkward trays and platters. Also raises the worktop height by about 60mm to ease that back when chopping the vegetables!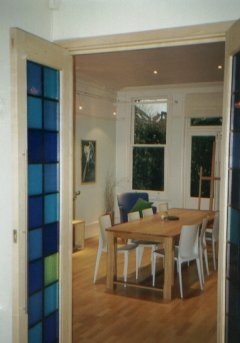 View through blue doors to dining room
stainless steel ang glass shelves, with tiles and granite worktop