A large Victorian Church was taken down to allow for the new building. Each small flat has its own bedroom and living room, alarm and comunication system to the Warden, Bathroom and Kitchen. There is a communal lounge on the ground floor leading to a small garden. There is a comunal laundry room on the top floor leading to balconies overlooking the garden, and several small lounge spaces at each level, to encourage comunication between the residents. This project was carried out in the late 1980's but still looks and works well today.
43 Sheltered housing one and two person units, for the Baptist Housing Association
Peckham (South London)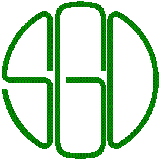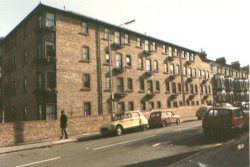 The approach to the front door which has an entryphone system to each flat. The entrance lobby has two lifts to all levels.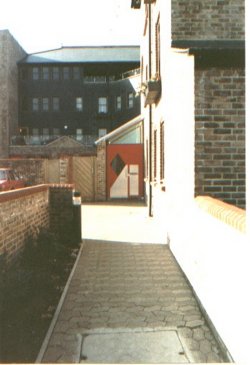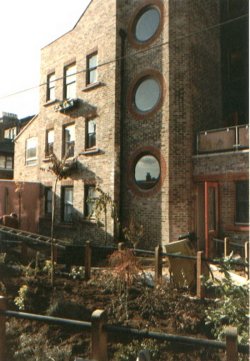 The rear garden, with the lounge beyond, and the balcony on the third floor accessed from the lobbies and the laundry. A popular spot to chat while the washing is being done.
Part of the rear showing round windows to one of the staircases.