A new extension was constructed for the kitchen dining area. As the house in in the green belt size was limited. The best use of the space was needed. This view is from the dining space into the kitchen area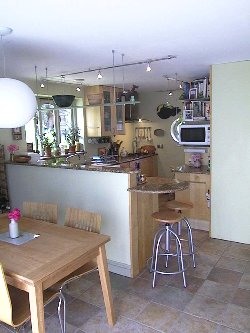 STUART GURNEY'S KITCHEN
Surrey (UK)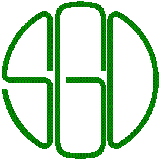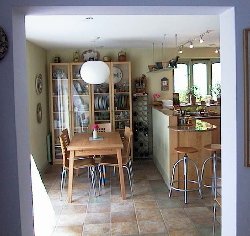 The opening is from the Living Room into the dining area, and so the whole of the back of the house,kitchen, study, living and dining area including the garden are linked into one living space.
This view is accross the granit topped "bar" separating the dining and kitchen area. There is a sand blasted glass shelf on stainless steel rods above this bar. Circular window in end wall gives view to visitors approaching from front garden.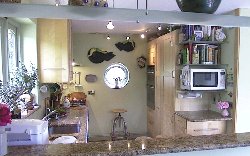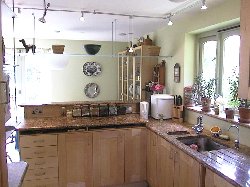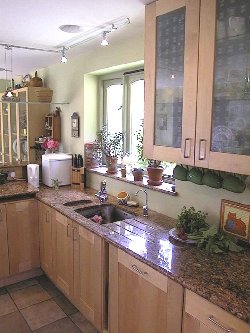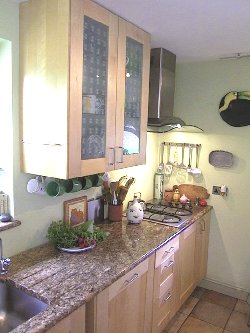 Twin sinks and drainer. matching window cill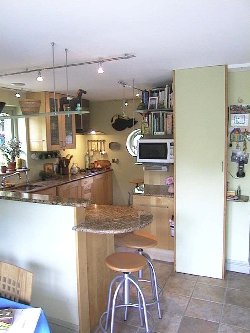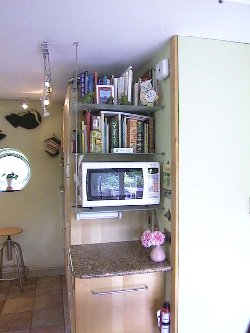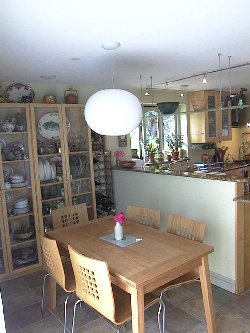 Dining space, table and chairs. Moon light fitting
This view shows the "bar" and the raised section which incoporates some sockets and hides to jars of tea and coffee etc. This section of worktop is raised to provide a space for trays and cutting boards etc.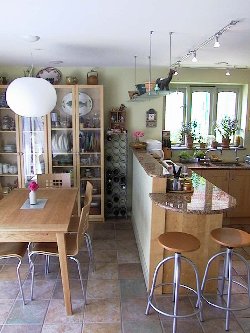 The hob with glass extractor hood. Granite worktop with grooves cut into granite to form drainer for underslung sinks. Beech veneered cupds. (from Ikea)
The dining space and the end of the granite bar and raised section. Oak extending table and moulded ply chairs. Glass shelf over bar and rod track low voltage lighting. The floor is tiled in ceramic tiles with water system underfloor heating.
The end of the bar and stools. To the left of the tall cupboard aremore glass shelves "hanging" from the ceiling including the microwave.
The microwave shelves, and heat detector at high level and fire extinguisher at low level!